'Moved by Love' Retreat
July 8-10
Ahmedabad, Gujarat, India
"Just as a scientist will work wonders out of various applications of the Laws of Nature, even so a man who applies the Law of Love with scientific precision can work greater wonders." --Gandhi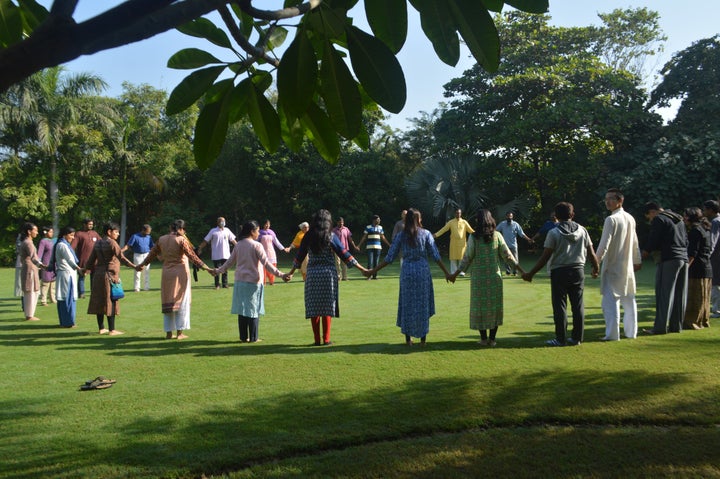 We are thrilled to restart our 3-day, in-person "Moved by Love" retreat at thebeloved Sughad campus on the outskirts of Ahmedabad! With a circle of kindred spirits, the experiential retreat aims to deepen our understanding and practice of the Law of Love. Embedded in a "hands, head, heart" context, and held by inspired volunteers who have hosted more than a hundred retreats, this is an opportunity to join a collective journey of cultivating a shift from consumption to contribution, transaction to trust, isolation to community, and scarcity to abundance.
In today's world of compounding catastrophes, how could the Law of Love manifest? How do we cultivate deep connections in a post-pandemic world, and support each other's inner transformation? When every challenge feels like an emergency, how do we trust in emergence? What is a skilful relationship to technology, social media and markets? How do we balance what we do with who we are becoming? What tools might help regenerate our intrinsic spirit of service?
To learn more and see visuals of the retreat space:
Throughout our time together, we will meet local everyday heroes, dive deep into the challenges of practicing selflessness in today's culture, and engage in many group practices that nurture our inner transformation.
All 'Moved By Love' retreats are hosted entirely by volunteers who are past retreat attendees. It is an expression of gratitude for all the value they have received in these retreats, and hence offered without any price-tags. At the end of the retreat, everyone is invited to pay-forward with multiple forms of capital, whatever they're moved to offer for future participants.
To attend this retreat, from July 8th to 10th, please fill out the application below and we'll get back to you.
To facilitate deeper connections, we limit most of our retreats to 30 participants -- and we give priority to project initiators who are anchoring local projects in their communities. If you have any questions, please contact us anytime.
Thank you for helping co-create such agenda-less gathering over the last decade. We look forward to coming together in the sacred field of our shared values of outer-service and inner-transformation.
---
Share the invite: