"I slept and dreamt that life was joy. I awoke and saw that life was service. I acted and behold, service was joy." --Tagore
From our very first breath, we are continuously engaged in action. Each has two fields of consequences: external and internal. We often measure ourselves by external outcomes, but it is the subtler inner ripple effect that ends up shaping who we are -- our identity, beliefs, relationships, work and also our contribution to the world.
Sages repeatedly warn us that our external impact is only effective if we first tune into its intrinsic potential; that, without an inner orientation, we will simply burn-out by cutting off our supply to the inexhaustible joy of service.
The Bhagvad Gita defines this approach to action as "Karma Yog". In simple terms, it is the art of action. When we dive into that zen of action, with a mind immersed in the joy of the moment and void of any competing desires or expectations for the future, we unlock certain new capacities. Almost like zooming out from our myopic view, we can now see, hear and feel more. Like a hollow flute, the larger rhythms of the universe play its song through us. It changes us, and changes the world.
As Karma Yogis, how do we hold a burning world? What helps us discern reactionary activity from sustained service? How do we balance short-term relief with long-term cure? In responding to the suffering of the world, how do we avoid feeling overwhelmed? What are our internal sources of joy and how do we stay connected to it?

Einstein once noted, "No problem can be solved from the same level of consciousness that created it." As we expand our understanding of inner transformation, how might our actions support that field of higher consciousness? How do we optimize our actions – not merely for the immediate impact of "what we do", but also for the slow and long journey of "who we are becoming" in the process?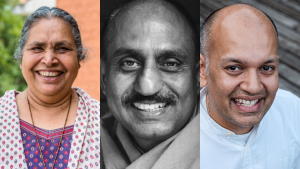 If these questions interest you, join us for this experiential 4-day retreat with change-makers, leaders and everyday heroes from diverse walks of life. We will learn from each other, practice through our actions, engage in juicy dialogues, listen to guest speakers and much more! For this retreat, we're also particularly excited to have some inspiring karma-yogis like Sister Lucy, Nipun-bhai and Jayesh-bhai join us in-person!
FREQUENTLY ASKED QUESTIONS
In an increasingly
volatile
world, life feels like an unending emergency mode. Before we complete responding to one situation, an even more pressing need pops-up. The cascading catastrophes leave us exhausted. As the problems continue to mount, even our hope for a better future starts to dim. In such a context, how do we find a regenerative impulse for service, that is not rooted in outcomes but in the joy of giving?
Simply put, we are a group of ordinary individuals, who come alive in doing small acts of kindness. Volunteers behind this particular retreat have hosted thousands of
circles
and hundreds of
Moved by Love
retreats; moreover, they have supported many ServiceSpace
projects
from Karuna News to Karma Kitchen.
Inspiring participants. Lots of big hearts are coming together!
Uncommon questions. For quick-fix, binary, either-or answers, we already have Google; we aim to hold questions to lean into its nuances first.
Noble Friendships. Our hope is to nurture a rich matrix of friendships among unlikely friends.
Gandhi. Being on sacred Gandhian land in Ahmedabad, we hope to tap into vast reservoir of inspiration and practicing Gandhians. (More: Standing Up)
Volunteer Run. It's run entirely by volunteers, so there's no solicitation, pitches, agendas. Just practice of love.
A
beautiful and serene campus
on the outskirts of Ahmedabad, the heartland of Gandhian revolution, will be our home for the retreat. Built by legendary social entrepreneur
Ishwar Patel
, the space is an architectural blend of activism, work for humanity, spirituality and modernism.
All
Moved By Love
retreats are offered as a no-strings-attached gift, made possible by
gratitude offerings
from past alumni. At the end of all retreats, everyone has an opportunity to keep the chain alive and pay it forward with money, time or
other
expressions of wealth -- for future guests.
Retreat begins at 4PM on 8th December (Thursday). You can arrive earlier in the day or if you are arriving on 7th, just let us know. :)
Retreat ends at 4pm on 11th December (Sunday). Most participants will leave during the evening, but in case you need to stay back for the night, we will be happy to arrange that.
Through our time together, we will sit in circles to learn from each other's experiments and challenges; hear and engage with some innovative speakers across sectors; engage in many group practices that nurture our collective inner transformation. Plenty of opportunities to engage the head, hands and of course the heart. Plus a few surprises!
Over last twelve years, thousands have joined from a wide-ranging backgrounds. Perhaps what brought them together was a simple organizing principle: We are not merely what we do, but who we become by what we do. If you resonate with the notion that inner change and outer change are intrixicably intertwined, and if you are moved to cultivate deep connections with kindred spirits, this retreat will likely speak to you! Beyond that, we'd recommend leaning in your heart's intuition -- more often than not, "heart knows today what the mind will know tomorrow." :)
To co-create our sacred field of emergence, do join us! To facilitate deeper connections, we limit the group size of our gatherings -- and give priority to project initiators who are anchoring local projects in their contexts. If you have any questions, please contact us anytime.
---
Share the retreat invitation with your friends: